I went to Israel from my Erasmus stay in Cyprus, and to be honest, I have never thought that I would go there someday – there were places like New York, LA, Bali, Dubai etc. on my bucket list. But suddenly we found out that a return plane ticket to Tel Aviv from Cyprus was for only 40 euro and the decision had been made. 
Tel Aviv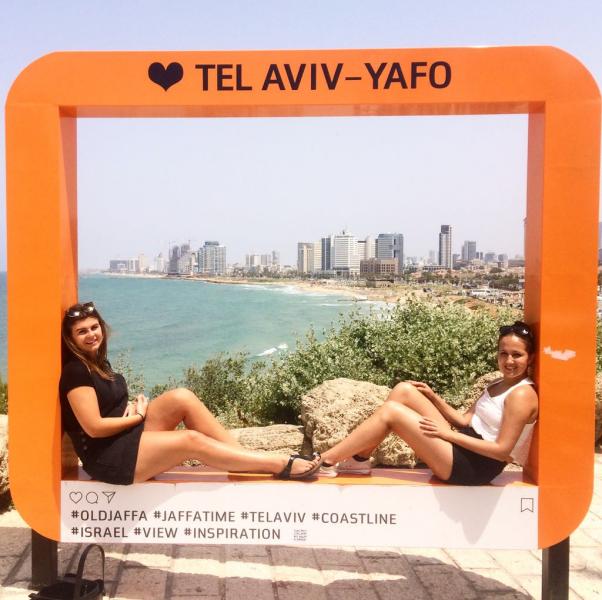 If you heard some stories about how strict they are at the airport when you are going to Israel, Tel Aviv especially, they were right for sure. The interview with the officer was much worse even than in the USA. We had to explain very well how it is possible that a Czech girl, few Germans and a guy from Lithuania are travelling together. Long story short, we got in with no problems. 
The city of Tel Aviv is quite similar to our big European cities - apart from the significant amount of young people in the military (girls also!) who you meet in the streets with their guns on. We spent two days there, went to the beach, had an original falafel, rented a bike and rode through the city and visited the Old Jaffa which is a historic small town, now basically surrounded by Tel Aviv. What was really fun, was going to the local markets where you could see lots of beautiful but unnecessary stuff, had some typical food or buy spices. If you are not from the East, here, you can feel the typical Orient market atmosphere, and you will love it for sure. 
If you are seriously thinking about going to Tel Aviv, I recommend Florentine Hostel, which is really friendly for young people, with breakfast on the roof and with shisha evenings included.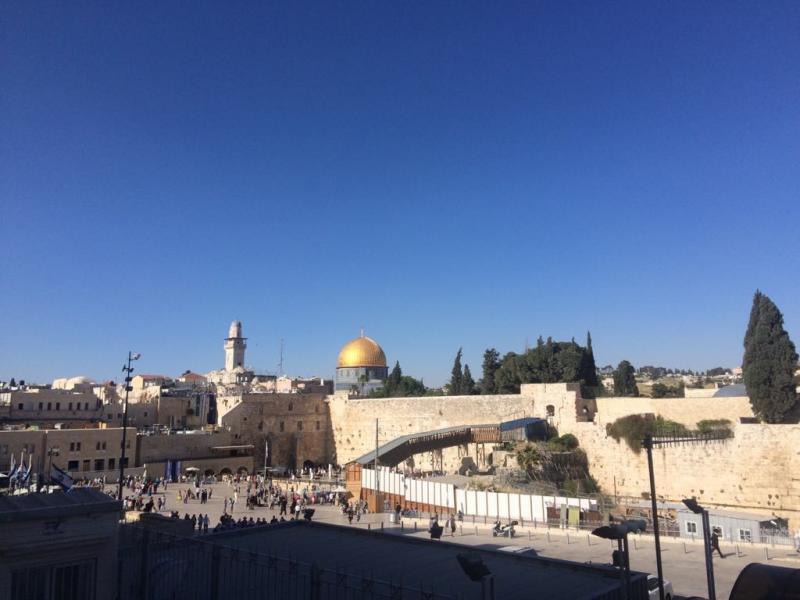 Jerusalem 
Jerusalem was way more interesting than Tel Aviv! You can feel the history there. It's a place where all religions meet, which was even for me as an atheist, really something. 
If you go there, you definitely have to go to the Old City, which is impressive all by itself. What's more, inside there are the most crucial religion sights for the Jews, Muslims and Christians in the world. In the area of the one-kilometre square. Like there is no other place like that anywhere. 
You probably know the Western Wall (the holiest site in the world for Jews). Above the Western Wall is Dome of the Rock (after Mecca and Medina, the most important place for Muslims, where the prophet Muhammad is said to have risen to Heaven). And really close there is a Church of the Holy Sepulchre, where some believe Jesus was crucified and buried.
Like really wtf - at one place. But nothing is as nice as it looks like so if you are there, prepare for some restrictions: 
Under every circumstance, even if there is 50 °C, be ready to cover your knees and shoulders if you want to go to any of these places. If you're going to go to the Western Wall, there are two separated parts – for men and women. Men have the opportunity to go also to the tunnels around the Wall (women, unfortunately, don't.) If you want to see the Dome of the Rock, check online the opening times for public (if you are non-muslim) and respect the religion. In the Church of the Holy Sepulchre are sometimes services, so if you are lucky you can see it, it is really worth it. 
Bethlehem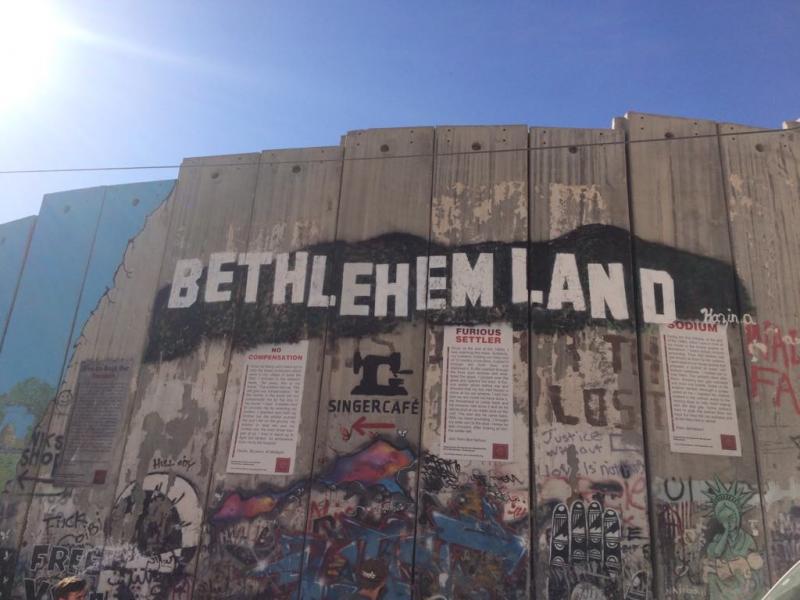 From Jerusalem it's really easy to get to Bethlehem, there are direct buses operated by non-Jewish people, which is a significant advantage, especially on Sabbath. In this city, I experienced for the first time full Islamic culture. I liked it there, it was exciting - but the pro tip, have your shoulders and knees covered all the time especially if you are a girl. 
In the Bethlehem you can visit a Church of the Nativity – the church is built over a cave in which Jesus Christ was born, the Milk Cave – where he was fed, and Rachel's Grave, an essential place for Jews. So religion all around you again. 
Thanks to the historic progress, there is a big wall around Bethlehem, and basically around whole West Bank. If you have seen Hunger Games, it's something like that. On the wall, there are lots of graffiti art pieces made. In the past, there also were some made by the well-known street artist Banksy. But unfortunately, they are all probably gone now.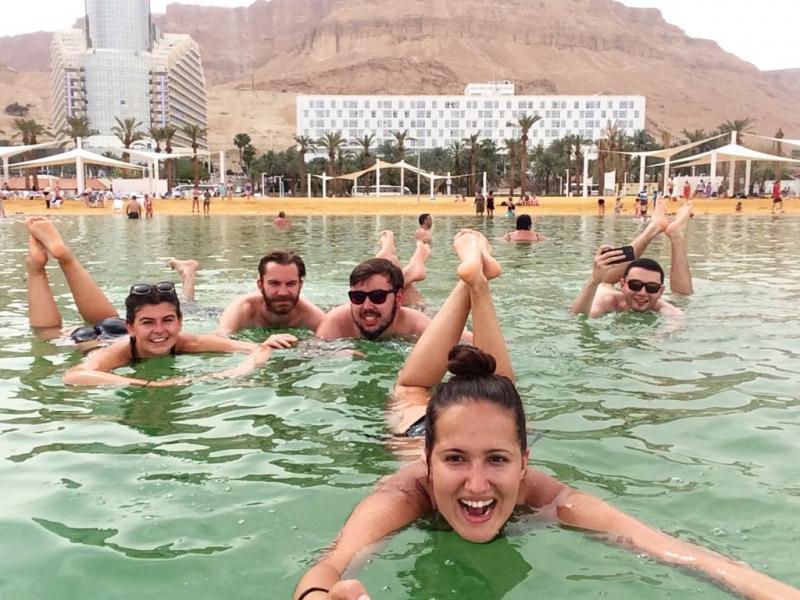 Dead Sea
During our trip, we have visited a lot of beautiful places, but nothing is as wonderful as the Dead Sea! OMG like that is something you really have to try in your life. You can get to the Dead Sea with direct buses from Jerusalem or Tel Aviv. For the bathing, we used an oasis Ein-Bokek, which I really recommend – gorgeous free public beach with showers, shops, even a McDonald's in the middle of the dessert.
Ok, and now about the water - I have heard stories about floating in the water, but it's not even close. Like you are totally floating without the chance going deeper than is your shoulder level! You can sit as in armchair, lay on your belly and raise your legs. It is incredible. But be careful!! I got tiny water drop into my eye, and I spent fifteen minutes trying to wash it out, it hurt like hell. 

I have visited many places, travelled a lot, and I consider bathing in the Dead Sea as the best experience I have. 
Hey readers! If you are reading this, I am very happy that you have read my article till the end and didn't die in the process! Israel is a beautiful country, and for me, five days was not enough, and I would really love to go there again. What I want to mention, I felt quite safe there. There were not any problems. One big minus though, this country is quite expensive, everything costs probably twice as much as in the Czech Republic. 
I hope that you liked my article and maybe you will go there someday too. 
Zuzana
Mud from the Dead Sea is a healthy thing, they say...