Just 14 km outside of Brno you can experience a beautiful hike in the nature reserve Babí lom nearby the village of Lelekovice. 
Do you want to know how Babí lom was created?
It is said that once upon a time, witches (ježibáby) flew over the region with stones in their arms. But they could not carry them all, so they let them fall to the ground. Babí lom was established in the same place.
And that they were really stones for strong natures! The height of individual rock formations at Babí lom reaches up to 20 meters.
Due to their very strong properties and structure, these rocks are a popular place for climbers. However, it is necessary to follow specific rules and consideration, as this reserve has been declared protected. The reason for protection is the occurrence of very diverse vegetation.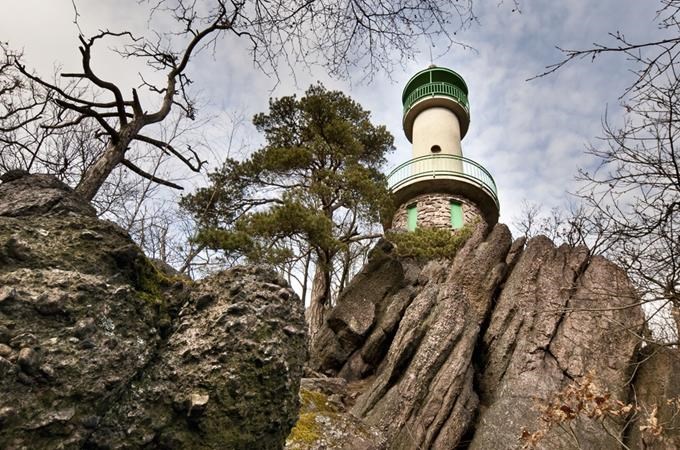 The freely accessible Babí lom lookout tower can be found on the southern slope of the Babí lom peak (562 m above sea level), which rises to the north above the village of Lelekovice.
The fifteen-meter-high lookout tower provides a picturesque view to the east of the Drahanská Highlands, to the west of the Žďár Hills and beyond the Bohemian-Moravian Highlands. To the southeast, you can see the forested hills of Chřiby and Ždánice forest, and if you look south, you will see part of Brno with Špilberk Castle. 
How to get there
Starting from the main train station (Hlavní nádraží) tram stop take the tram 1 in the direction Řečkovice. You need to get off at the stop Hudcová and transfer to the bus No.41 which goes to the final stop Lelekovice u kříže. From this spot our map will guide you where to go, just don't forget to download the Mapy.cz offline maps which work very well even without an internet connection. To get to Brno, you will use again the bus 41 but this time from the stop Lelekovice náves where also our map route ends. Midway on our map, you can also find a local pub for refreshment.
What kind of ticket is needed? If you have a valid Brno transportation card you just need to buy an extra ticket for the additional 1 zone you will be crossing. Buy both tickets there and back, preferably in advance through the ticket machine. The ticket costs 16 CZK (one way). If you do not have a transportation card, you will need a ticket for three zones which can also be bought in the ticket machine for 27 CZK (one way).