Mikulov is a typical Moravian town situated in South Moravia, not far from Brno. It's one of the most popular places in the Czech wine region, surrounded by beautiful landscapes. In the summer, I went to Mikulov with my sister. We travelled by car, but Mikulov is also easily accessible by bus or train. A direct bus from Brno (Zvonařka station) goes every two hours, and the journey lasts about 1,5 hours (I recommend using "https://idos.idnes.cz/" to finding the best connections).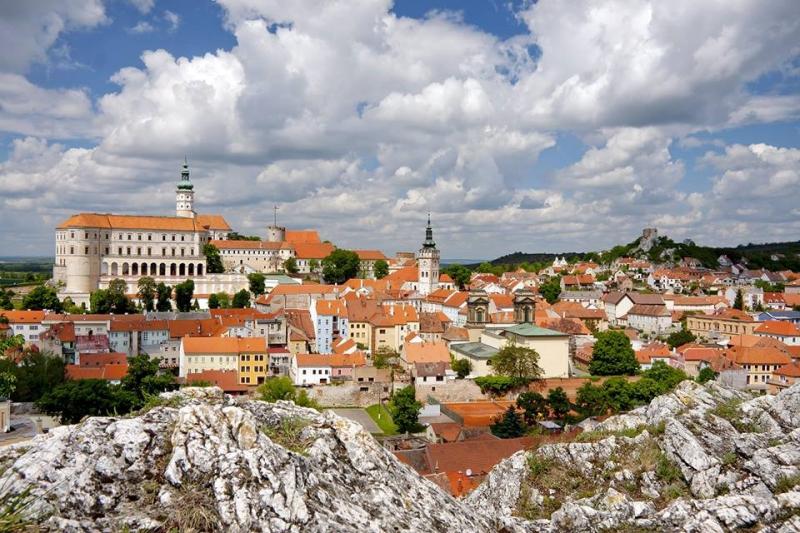 We went on the trip one Saturday morning in July, planning to stay in the area for the weekend. Mikulov was our Sunday destination. On Saturday, we stayed overnight in a camp called Pavlov. We set off early in the morning, heading to Mikulov. If you stay in the camp too, you can catch a bus (e.g. bus number 570). The journey Pavlov – Mikulov takes about 25 minutes. Even if you don't stay in the camp, I recommend you to travel to Pavlov, because on the way between Mikulov and Pavlov, there is a beautiful place to visit. It's a ruin of a castle called "Sirotčí Hrádek". 
How to get there? If you go by bus (no. 570), get off at the bus stop called "Kletnice u rybníka".  Sirotčí Hrádek is near the bus stop (app. 600 m). You can get a beautiful view from the rocks and enjoy the look at the surrounding landscape and vineyards. 
Later, you can continue by a bus again. More active people can go on foot. The path goes along the vineyards and a rock named "Kočičí kámen" (Cat Rock). When we reached Mikulov, we had a little problem with parking in the centre because almost all the parking spots were occupied. That's the reason why using a bus might be a better option. And then we "jumped" into the centre of Mikulov. 
As we were hungry, our sightseeing tour started in a little pub called "Pod Zámkem". We had a great lunch and beer. It is a small friendly pub with a small range of choices, but delicious food. Other places great for eating out are for example restaurant called "Spojka & spol. Restaurant & Koloniál "or "Marcel Ihnačák Restaurant". All these places are situated near Mikulov Castle, which was our next stop.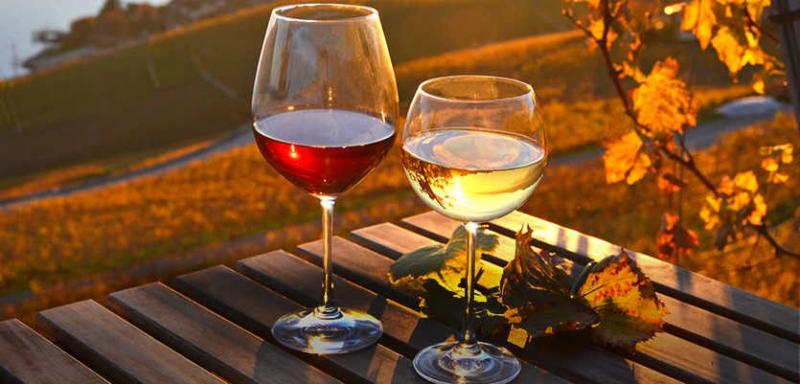 Around Mikulov Castle, there are beautiful extended gardens. Some of the tours of the castle are paid. But you can visit many parts of the castle for free. For example, I recommend visiting the tower called "Břízová věž". It's opened to tourists even though there is a sign which says: "Entry at your own risk". But don't be scared and go up. I think the sign is there to avoid big groups going up at the same time. From the top, you can also see other parts of the castle and a lot of pigeons. 
As well as the castle, you MUST visit some local wine cellars and enjoy delicious local wine and the atmosphere. If you prefer good coffee, I recommend a café called "(NE)vinná kavárna ", which we enjoyed, or "Minimal Coffee "or "Kafe Pala ". BUT watch out for prices! Closer you go to the centre - higher the rates.
SVATÝ KOPEČEK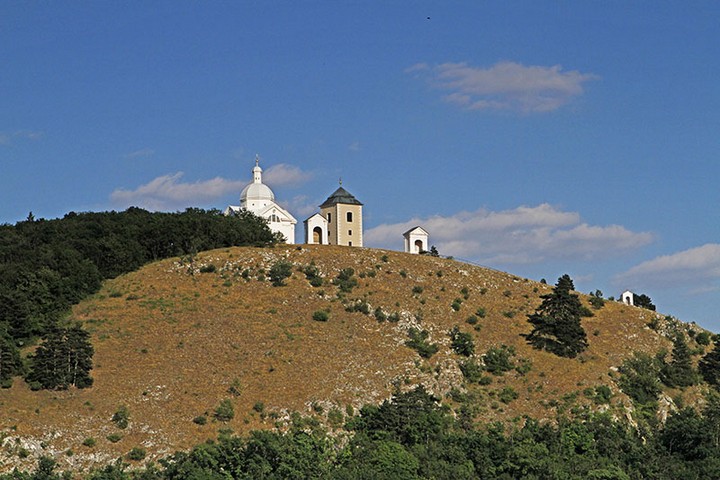 If you are NOT lazy and don't mind walking, you MUST go to the hill called "Svatý kopeček" (Holy Hill). According to me, it's the most beautiful place in Mikulov. The most popular tourist trail near Mikulov is a "Křížová cesta" (Way of the Cross) which you can undergo following the blue tourist sign which starts in the centre of Mikulov. The trail is comfortable, and you can see little chapels along the journey. In some of them, you will see statues of saints. After reaching the hill, you will be rewarded with a gorgeous view over the town Mikulov. It's a perfect place for having a little rest and snack. We didn't want to go back the same way, so we followed the green trail, which led us down on the opposite side of the hill. Before you start going down, you'll come across a Chapel of Holy Grave where you can throw a coin for good luck. 
For better orientation in the countryside, use the "https://mapy.cz ". You can also download a mobile app. You can find there everything you need. 
EQUIPMENT
No special equipment needed in Mikulov, but if you go on a trip to Svatý kopeček, we recommend wearing good shoes (closed/sport shoes) for better comfort.