This week we decided to take you to one of the four national parks in the Czech Republic – The Bohemian Schwitzerland National Park. We already talked about the national park Jeseníky in a previous blog post, so if you want more travel tips of this kind, don't hesitate to check it out.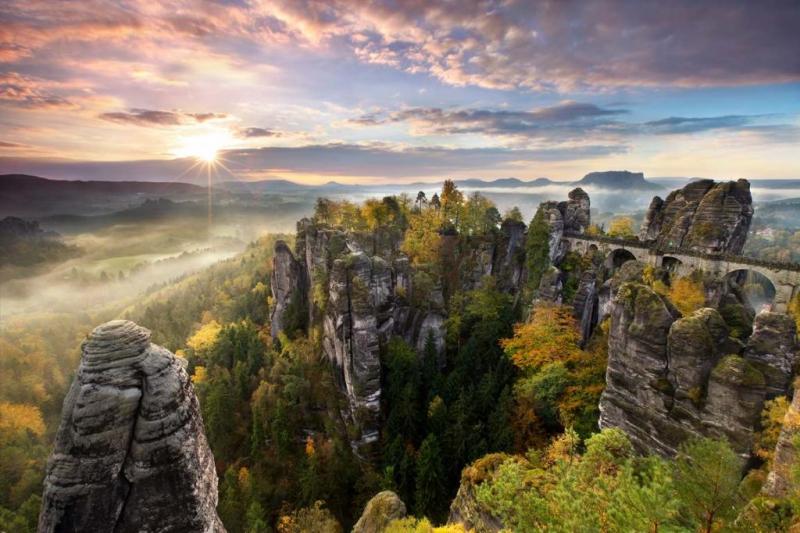 The region of Bohemian Schwitzerland, also known as Czech Switzerland, became a national park on January 1st, 2000, which makes it the youngest national park in the Czech Republic. The main subject of protection in this location are unique sandstone formations. This national park is located in the Děčín district between the villages Hřensko, Chřibská and Brtníky, and it's also adjacent to the Saxon Switzerland National Park in Germany. Since the final destination is quite far away, the most comfortable transport is probably a car rental. And if you choose to go with Hoppygo, you can participate in a giveaway for 3000 CZK on our Instagram! 
So what are the three top must-see places in Bohemian Schwitzerland?
Pravcicka Gate (Pravčická brána)
Pravcicka Gate is considered the most beautiful spot in the whole Bohemian Switzerland. This national monument is a natural sandstone bridge, which is 16 meters high and 8 meters wide. Its respectable dimensions make Pravcicka Gate the largest natural stone bridge in the whole European continent. Fun fact – it also appeared in the famous film The Chronicles of Narnia!   
Kamenice Riverbank and Gorges
The Kamenice riverbank and Kamnitz Gorge are some of the most beloved attractions within the park. From April to November, you can catch a boat ride between the city of Hřensko and Srbská Kamenice, which offers a unique chance to see the canyons and sandstone mountains from the water. 
Tisa sand rocks (Tiské stěny)
This labyrinth of famous vertical rocks is considered another highlight of Bohemian Switzerland. The outdoor playground made out of sandstone is full of pathways of all sizes, leading to little caves and holes, which gives it fairytale vibes. In fact, this location is also one of the filming spots for the Narnia movie.
Mary's Rock (Mariina skála)
Mary's rock is over 400 meters high hill, and many people say it's one of the best viewpoints in the whole national park. It's also considered as a photographer's dream shooting location, and it's suggested to climb the hill before dawn and enjoy the view with a beautiful sunrise. 
Bastei Bridge
The Bastei Bridge is technically on the German side of the national park, but it's easily reached from Bohemian Switzerland. This unique bridge is over 300 meters tall and in between several different rock formations. Walking on the bridge offers stunning views, especially at sunset.
Besides the locations listed here, Bohemian Switzerland has much to offer to all nature lovers. We hope you will visit this Czech pride and take many pictures that you can share with us on Instagram!