Welcome to Brno! We all know the first days in a new city can be a bit stressful and challenging. Do not worry, though! After few days and with our help, you will quickly get used to life in Brno, and you will completely fall in love with this country!
HOW TO GET FROM THE TRAIN/BUS STATION TO YOUR DORMITORY?
In Brno, we have the main train station directly in the city centre. After leaving the main hall, you will see a huge tram station called "Hlavní nádraží" (which means the main station). If you come to Brno by bus, you will get off at the Grand Hotel stop. And that is very close to the main train station. Just follow the map.
a) Are you living at JAK? Take tram number 9, which goes to Štefánikova čtvrť and then walk to the street Koudelova 3.
b) Are you living at Taufer? Then take tram number 12, in the direction of Technologický park. And get off the tram on the stop Tererova. There you'll just cross the street and will have to go around the building from left side to get to the main entrance.
HOW TO PAY FOR THE TRAM TICKET?
Make sure to always buy a ticket when using public transport. The easiest way is to do it with your credit/debit card. When you enter the tram, you will see a ticket machine next to the door. There, you will just place your credit card every time you are entering or leaving the tram. After the whole day, it will automatically count you the best fee for the ticket. It means that if you are travelling a lot that day you will pay just the day ticket and it won't charge you more. For more info, visit this page. Later on, we will also advise you on how to get a monthly or quarterly student ticket.
BEST PLACES FOR SHOPPING
For grocery shopping we go to shops called Billa, Albert, Tesco, Lidl or Kaufland. All these shops should have everything you will need as well, with drugstore alley. If you need some home stuff for the kitchen or bathroom, you can buy it at Tesco or Kaufland. I recommend you to go to this Tesco. It is a shopping centre so you can buy there clothes etc. as well. If you want to go to a proper shopping centre, you can visit Vaňkovka shopping centre, which is 10 mins walk from the main train station. In front of Vaňkovka is a bus station. This is where a bus to Olympia shopping centre go from. The Olympia bus is for free and takes approximately 15 min. If you'd like to go to Avion shopping park, you have to take bus No. 67. It goes through stops like Náměstí 28. října, Moravské náměstí and so on so you can find the stop closest to you and go for that one. Both of these are our biggest shopping centres, and both are outside the city. Olympia is good for clothes, shoes etc. In Avion, you will find big Tesco, some clothes stores and most importantly IKEA!
WHAT ARE THE MOST IMPORTANT PLACES YOU SHOULD KNOW IN BRNO?
For a start, you should know where is the main train station. We have a very famous meeting point there, and we call it "Under the clock". You will definitely need to know this place for a meeting before a night out. From the main train station goes our most famous street called Masarykova. This is the city centre's main street, and it will lead you to our most known square called Liberty Square. In Czech, we call it Svoboďák or Náměstí svobody. There you will find another famous meeting point under the "clock". From the square goes among other, street Česká and it will lead you to the Česká tram stop. There you will find another clock great for a meeting! From this stop, you can use tram 5, which goes to JAK (stop Štefánikova čtvrť) or tram 12 to Taufer dormitory (stop Tererova). Next to the tram stop, you will see a big church and a huge statue called Jošt (the horse statue). This is a very well known place for the meetings as well!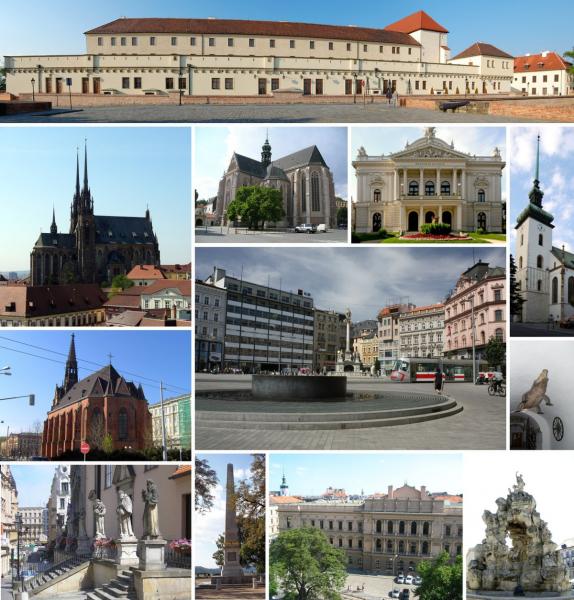 WHERE SHOULD YOU GO OUT FOR DRINKS OR LUNCH/DINNER?
In the city centre and elsewhere you will find many restaurants and pubs. We recomend you to go for a meal or beer to U třech čertů, Dřevěný orel, Dřevěný vlk, Zlatá loď, Husa na provázku, Na Knoflíku or Lokál. For a night out and some drinks like coctails etc you should visit Vyhlídka, Terraza, Eden, Aloha, Malej velkej bar, Bar který neexistuje or 4pokoje. For coffee or breakfast, try to visit Mezzanine, Aida, Kafec, WafWaf, Bavard or Placzek. In case you would like to try Czech food, read our blog post here.
WHICH APPS CAN MAKE YOUR LIFE HERE EASIER?
We already wrote a blog post about it so go to check it out.
WOULD YOU LIKE TO TRAVEL AND SEE SOME AWESOME PLACES?
We are trying to do our best here on our Blog to recommend some great places, so you can find here many tips for day trips and useful information about a life in Brno and the Czech Republic. Find some time and check out our previous blog posts.
WHAT YOU SHOULD NOT MISS THE FIRST DAYS IN BRNO!
Most importantly, you could sign up for the welcome week! This semester it starts on Monday 6th September and will be full of amazing events. You will see and explore our university, we will take you for trips outside the city and give you the opportunity to buy an ESN card, SIM card and many other things! There will be also some events organized just by ESN MENDELU Brno during this week. All events will be shared on the FB group MENDELU Erasmus Students, where you can find all the information you will need about it.
Here is a sneak peek of the first events!

We hope this blog post will help you during the first days of your Erasmus. In case you need help with something, do not hesitate to reach out to us. Enjoy your Erasmus in Brno!